The following is a list of articles, books, and web-based resources intended to stimulate, challenge, and encourage reflection on pedagogical aims and practices within the discipline of Religious Studies.
AAR Teaching Religious Studies Series (published by Oxford University Press).  Volumes in this series contain essays that locate the topic within its historical context and within the academic study of religion, as well as provide discussions of related pedagogical issues.  Some titles presently available include:
Teaching Religion and Violence, Brian Pennington, ed. 
Teaching Undergraduate Research in Religious Studies, Rebecca Todd Peters and Bernadette McNary-Zak, eds. 
Teaching Jung, Kelly Bulkeley and Clodagh Weldon, eds. 
Teaching Mysticism, William Parsons, ed. 
Teaching Religion and Film, Gregory J. Watkins, ed. 
Teaching Death and Dying, Christopher M. Moreman, ed.
Teaching the Daode Jing, Gary D. DeAngelis and Frisina, Warren G., eds. 
Teaching Confucianism, Jeffrey L. Richey, ed. 
Teaching New Religious Movements, David G. Bromley, ed.
Teaching Religion and Healing, Linda Barnes and Ines Talamantez, eds.
Teaching African American Religions, Carolyn M. Jones and Trost, Theodore Louis, eds. 
Teaching Durkheim, Terry F. Godlove, ed. 
Teaching Ritual, Catherine Bell, ed.
Teaching Freud, Diane Jonte-Pace, ed. 
Teaching Islam, Brannon M. Wheeler, ed. 
Teaching Lévi-Strauss, Hans Penner, ed. 
Beyond the Classics?  Essays in Religious Studies and Liberal Education.  Ed. Frank E. Reynolds and Sheryl L. Burkhalter. Atlanta, 1990.
The Chicago Forum on Pedagogy and the Study of Religion.  An occasional paper published by the Martin Marty Center at the Divinity School at the University of Chicago.
Monica A. Coleman, "Transforming to Teach: Teaching Religion to Today's Black College Students," Teaching Theology and Religion, 12.4 (2009): 95-100.
Susan G. Henking, "The Open Secret: Dilemmas of Advocacy in the (Religious Studies) Classroom," in Advocacy in the Classroom: Propaganda versus Engagement, ed. Patricia Meyers Spacks (1996), pp. 245-259.
Gavin Hyman, "The Study of Religion and the Return of Theology." Journal of the American Academy of Religion72 (2007): 195-219.
Journal of the American Academy of Religion 65.4 (1997).  A thematic issue on "Teaching and learning in religion and theology."
Mark Juergensmeyer, ed., Teaching the Introductory Course in Religious Studies: A Sourcebook.  Scholars Press, 1991.  Contains essays by such figures as Robert Bellah, Jonathan Z. Smith, Ninian Smart, and Wilfred Cantwell Smith.
Russell T. McCutcheon.  "Religion, Ire, and Dangerous Things." Journal of the American Academy of Religion 72(2007): 173-193.
Martha Nussbaum, Cultivating Humanity: A Classical Defense of Reform in Liberal Education.  London, 1997.  See especially chapter 8, "Socrates in the Religious University."
Mark Roncace and Patrick Gray, eds. Teaching the Bible: Practical Strategies for Classroom Instruction. Atlanta: Society of Biblical Literature, 2005.
Jonathan Z. Smith, On Teaching Religion: Essays by Jonathan Z. Smith. Oxford University Press, 2012.
Jonathan Z. Smith, "The Necessary Lie: Duplicity in the Disciplines," http://teaching.uchicago.edu/?/ctl-archive/course-design-tutorials/assessing-and-improving/smith
Jonathan Z. Smith, "Teaching the Bible in the Context of General Education," Teaching Theology and Religion 1.2 (1998): 73-78.
Jon R. Stone, ed. The Craft of Religious Studies.  London and New York, 1998.  A series of articles on the field of Religious Studies.
The Religion Major and Liberal Education: An AAR White Paper, 2007
http://sbl-site.org/educational/teachingbible.aspx  A resource for teaching Bible.
Teaching Theology and Religion.  A journal on pedagogy published annually in four issues by the Wabash Center for Teaching and Learning in Theology and Religion.  The journal is searchable here:http://onlinelibrary.wiley.com/journal/10.1111/%28ISSN%291467-9647
Wabash Center for Teaching and Learning in Theology and Religion website
The Wabash Center --- AAR Syllabi Project  A searchable collection of online course syllabi.
Walvoord, Barbara E., Teaching and Learning in College Introductory Religion Courses. Blackwell: Malden, MA, 2008.
Yearley, Lee. "Bourgeois Relativism and the Comparative Study of the Self."  Tracing Common Themes: Comparative Courses in the Study of Religion. Eds. John B. Carman and Steven P. Hopkins.  Atlanta, 1991, pp. 165-178.  A fascinating discussion about how and why Prof. Yearley changed his course, "Varieties of Religious Thought."
The University of Chicago's Center for Teaching and Learning offers many outstanding seminars and workshops for graduate students, in addition to its highly praised classroom consultation services.  The CTL is also developing an extensive portfolio of short teaching guides that will be available later this fall.  (Check back for updated link.)
The Center for Teaching and Learning at the University of Texas at Austin has one of the richest teaching center presences on the web, with many multimedia-enhanced learning modules on higher education pedagogy.  Their Becoming a College Teacher is an excellent place to begin.
Stanford's Center for Teaching and Learning also boasts a extensive collection of resources in their Teaching Talk portal.
Harvard University offers its entire Derek Bok Center Video Series on College Teaching for free viewing on its website.  Check out their other online resources, too.
The Professional Development Network in Higher Education offers a customizable search of content from teaching centers across the web.  A very helpful service.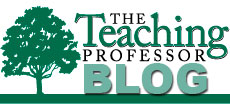 Faculty Focus offers a continuous stream of articles on professional development and teaching, including the popular Teacher Professor Blog.
Distributed by Richard M. Reis of Stanford University, the Tomorrow's Professor Listserv delivers faculty development "right to your inbox".  A good way to remain stimulated by new ideas.
The Education Recources Information Center is an searchable electronic library of education research sponsored by the Department of Education.
Need ideas, guidance, or inspiration?  Here are some book recommendations covering everything from course and assignment design to theories of learning.
Ken Bain. What the Best College Teachers Do. Harvard UP, 2004.
A popular companion that draws upon many years of experience in faculty development to communicate the essentials of effective college teaching.
John C. Bean. Engaging Ideas: The Professor's Guide to Integrating Writing, Critical Thinking, and Active Learning in the Classroom. 2nd Edition. Jossey-Bass, 2011.
Bean's book will measurably improve new teachers' assignment design skills and provide ample examples to stimulate readers' own ideas.
L. Dee Fink. Creating Significant Learning Experiences: An Integrated Approach to Designing College Courses. Jossey-Bass, 2003.
Offers one model of course design that will give the new teacher a helpful conversation partner in designing their own course.  Download here a 32-page guide based on Fink's book.
Barbara Gross Davis. Tools for Teaching. 2nd edition. Jossey-Bass, 2009.
Along with the classic McKeachie's Teaching Tips (but more affordable), one of the better "get in and drive" teaching manuals.  Clear and well-referenced.
Stephen Brookfield and Stephen Preskill.  Discussion as a Way of Teaching: Tools and Techniques for Democratic Classrooms.  Jossey-Bass, 2005.
New teachers will find the middle chapters on gettting and keeping a discussion going immediately useful. Readers will also want to consult what many regard as the best overall book on discussion leading, the collection of essays entitled Education for Judgment: The Artistry of Discussion Leadership (Harvard Business School Press, 1991).  
Susan A. Ambrose, Michale W. Bridges et al. How Learning Works: 7 Research-Based Principles for Smart Teaching. San Francisco: Jossey-Bass, 2010.
Distills into seven principles much recent research in psychology, education, and cognitive science on how students learn. 
Click here for a longer list of recommendations from the POD Network community.
Call for Syllabi
The Craft of Teaching is currently developing a syllabus database to include among our resources for scholars and teachers. We will launch that broader database project by working with the "Being Human in the Age of Humans" grant partners to develop a sub-database for syllabi related to climate change, the Anthropocene, and the humanities.
If you have an undergraduate or graduate syllabus that pertains to these topics, please consider submitting it to project coordinator Caroline Anglim ( ) with the email subject: Syllabus Submission.
Project Description
"Being Human in the Age of Humans" is a funded project studying the impact of the Anthropocene on human life. The Anthropocene, a term for a geological epoch characterized by unprecedented human transformation of the planet, originated in earth systems science and has since captured the imagination of many humanists. Discourse on the Anthropocene, which probes the meaning of humanity's role and agency within deep time and planetary evolution, raises religious and ethical questions about how to understand humanity's place within planetary evolution and how to envision the future trajectory of human societies. The Anthropocene strongly resonates with mythic and religious genres – declensionist or ascendant storylines, tales of hubris, forbidden knowledge, theodicy, and eschatology. These religious, philosophical, and ethical issues make the Anthropocene ripe for analysis by scholars of religion and theologians. Yet scholarship on the Anthropocene remains underdeveloped in these disciplines.
Following the broader aims of the "Being Human in the Age of Humans" grant project, the primary aims of the Craft of Teaching syllabus sub-database will be to foster coursework about the Anthropocene, humanity's place in planetary evolution, and other issues that intersect climate change and theology, philosophy, or religion.
Support and Leadership
This syllabus project is part of the "Being Human in the Age of Humans" project, led by Lisa H. Sideris, Indiana University (PI); Celia Deane-Drummond, University of Notre Dame; Sarah E. Fredericks, The University of Chicago; and Kyle Powys Whyte, Michigan State University. The principle investigators are supported by the Humanities Without Walls Consortium, based at the Illinois Program for Research in the Humanities at the University of Illinois at Urbana-Champaign. The Humanities Without Walls Consortium is funded by a grant from the Andrew W. Mellon Foundation.
For more information about the project, visit https://ctshf.nd.edu/research/being-human-in-the-age-of-humans/
---
Anthropocene Course Syllabi
Professor Sarah Fredericks
University of Chicago Divinity School
Course notes: intermediate/advanced course open only to undergraduates, cross-listed in religious studies and environmental studies, quarter system, two 1.5hr class periods per week
Description: The Anthropocene is a relatively new term to describe a geologic age in which humans shape the earth on a planetary scale (e.g. through climate change or nuclear weapons).  While this term arose in the sciences, it raises many questions best addressed by the humanities including the study of religion and ethics.  After discussing definitions of the Anthropocene, this course will examine several questions about what it means to be human in the Anthropocene.   These questions may include What vision of humanity is that is implied by or presumed by the Anthropocene?  Is the term problematically or appropriately anthropocentric (human centered)? Does the term allow or discourage recognizing the uneven contributions to environmental change and the uneven burdens of environmental degradation between human communities? What kinds of religious presuppositions are embedded in Anthropocene narratives?  Which cosmologies offer alternative visions of time and/or human relationships to the rest of the world that challenge the very idea of the Anthropocene?
Professor Jill Schneiderman
Vassar College
Course notes: undergraduate course, environmental studies introductory course, semester system, two 1.25hr class periods per week
Description: Geoscientists have proposed a new designation in the geologic time scale, "the Anthropocene," for our current time period. The designation reflects the fact that human beings are acting as geological agents, transforming the Earth on a global scale. In this first-year seminar we explore the possibilities of reconfiguring the actions of humans in the Anthropocene so as to lead to a flowering of a new Era, once called 'the Ecozoic' by "geologian" Thomas Berry, in which considerations of what is environmentally and socially just figure prominently.
Professor Lisa Sideris
University of Indiana Bloomington
Course notes: open to graduates and undergraduates, religious studies intermediate-level course, semester system, one 3hr class period per week
Description:  We will examine arguments from religious thinkers, philosophers, scientists, environmentalists, ethicists, and other theorists regarding the way that Anthropocene and "deep time" perspectives impact frameworks of meaning and value, and alter humans' perceived relationship with nature or with divinity. Anthropocene debates have great relevance for ethics and religion, and specifically for questions of human dominion or stewardship of other beings. One theme of the course will be the similar Anthropocene discourse that often emerges from techno-scientific and religious (or religious-like) narratives of the human-nature relationship. We will also explore Anthropocene implications for such real-world issues as: climate change and geoengineering, "de-extinction" and "re-wilding" programs and wilderness preservation, social justice, gender, race, and equity, biopolitics, and animal ethics. Throughout the course we will also consider the relationship of the Anthropocene to complex and nebulous ethical and affective dispositions such as hope, humility, restraint, and wonder and awe.